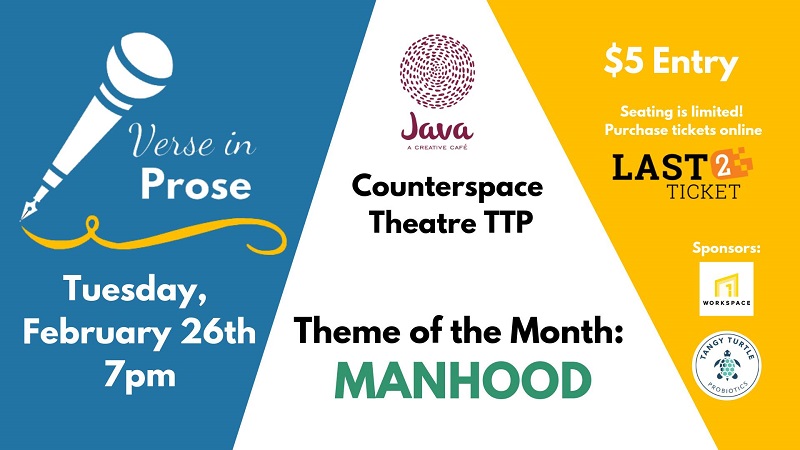 A Dynamoverse production
7pm Tues, Feb 26 2019
Java Creative Cafe
Toul Tom Poung
53 Street 468
As a complement to FemFest and the Vagina Monologues (Feb 15, 16, 17) Verse in Prose is putting together an all-male line-up to learn more about "Manhood." This is to create space for men to share their personal and true stories on growing up and navigating the world as a man. Everyone is welcome!
Whose Line Is It Anyway? LIVE
A Comedy in Cambodia production
Doors open 6:30pm,
Show start: 7pm,
Wed 6 Mar 2019
Java Creative Cafe
Toul Tom Poung
53 Street 468
It's finally here… the electrifying Phnom Penh debut of WHOSE LINE IS IT ANYWAY?
'Comedy in Cambodia' and 'Yes, and…' improv group combine once again for a 'Copy and Paste TV' show. Following the sold out performance of Would I Like To You Live, they now present this much-loved improvised comedy format, which takes the phrase `audience participation' literally.
Audience members conjure up ideas for the games and skits that our actors Elijah Bell, Ester Fang, Evan Heiser, Sam Thomas and Jay B Jones have to play out, with host Allison Sallinger attempting to keep things in check. Everything is completely made up on the spot, so this show has never been seen before and will never be seen again!
Be part of this one-off, hilarious event. Advance tickets are just $5 each, and you can get them either via Last2Ticket (online or at vendors across town) or by email reservation to livecomedyincambodia@gmail.com. Unclaimed tickets will be $7 on the door but we are expecting another sellout, so make sure you book quickly.
ALL profits will be donated to local charity EPIC ARTS CENTRE, a non-profit school for disabled children in Kampot. Look forward to seeing you there!