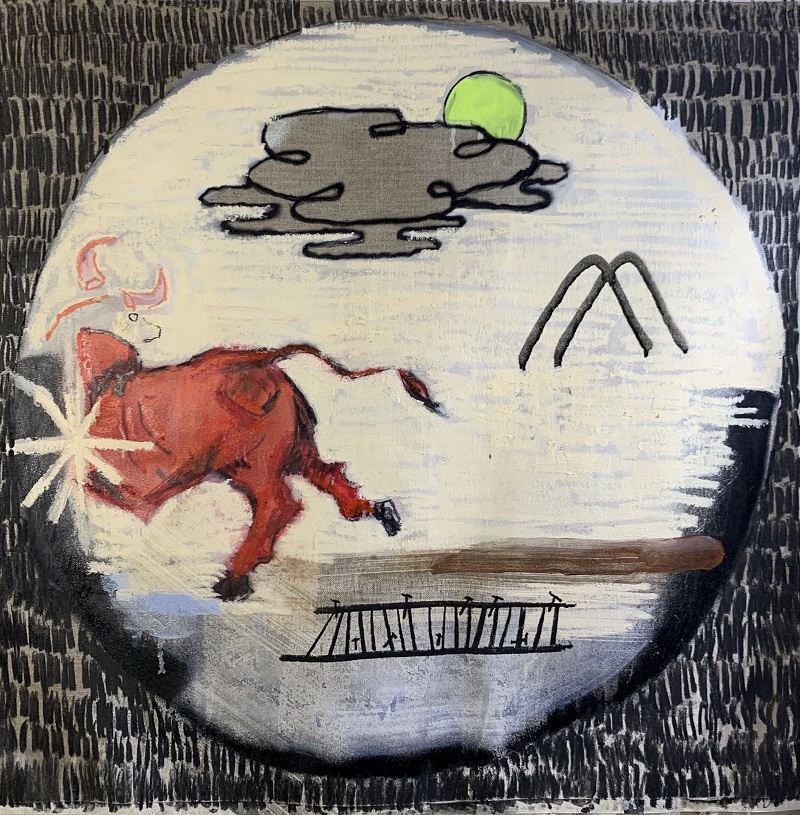 Date
08 Apr 2021

- 30 Jun 2021
Expired!
On View: Ox Herding by Georg Whelan
Java is excited to launch our new exhibition program at the Toul Tom Poung location with a new series of paintings by Georg Whelan.
Ox Herding is a visual investigation of the psychological and spiritual mechanism of enlightenment. Based on an ancient Buddhist parable this process is characterized in ten steps, ten transformations, ten paintings. While drawing upon a thousand years of wisdom, Whelan's use of contemporary iconography explores the struggle to achieve calm in the 21st century.
ARTIST STATEMENT
This body of work is my own interpretation of the classic Ox Herding parable. Ox herding has been used as an allegorical teaching tool in different Buddhist practices since the 11th century, depicting one's own discovery of the self, the path to enlightenment and the subsequent Bodhisattva returning to society. My interest in Sumi ink drawings and love for Buddhist art lead me to consider this parable. As much as I tried to stay true to the parable and express the same feeling in each of the ten sequences, as an Australian contemplating Asian and Buddhist art, there are several steps that I've admittedly missed.
It can be said that modern artists live in a world where there is a much greater emphasis on originality rather than the master-student relationship and rich tradition which all great Sumi ink painters have. With this in mind I intended to approach this series very differently to those before me, whilst reflecting on how some of these great masters would have interpreted this through a contemporary lens. I wanted to use techniques that exist in modernity that weren't available to them to emote the right feelings, such as use of iconic images, which can be understood at first glance, and act as a vehicle for sentiment.
While I chose to show each sequence within the circle, which in the Zen Buddhist tradition is called the 'Enso' and was popularised by practitioners of the Ox Herding pictures such as Master Gyokuse Jikihara (1904 -2004), I also intentionally tried to break away from more traditional frameworks of painting and ink drawings, both Eastern and Western. By ignoring the ways we are taught to paint in art school, rebuking Cezanne's school in which painting has to consist solely of mass and line or line and curves or the loaded-unloaded technique taught in ink drawings. I tried to reduce the field of the plane into neither a portrait nor landscape dimension consisting more of a series of marks and remnants and mark making. Through this technique I tried to gradually change the eb and flow of each panel as the narrative depicts neurosis leading to battle then calm. The first panel shows the Ox herder searching erratically with shorter nervous lines, then by the sixth panel 'riding the bull home' uses more calm, less frantic and disjointed marks.
The real masters of painting that interpreted this parable are said to have only achieved a successful series through a meditative practice, 'all mind-no mind', that created a spontaneous yet subconscious result. This was a challenge for me because I am primarily a portrait artist, the process of creating a painting can typically take days if not weeks rather than in the duration of one sitting. But I have considered that within Western portraiture, whether it is depicting a subject or the self, it is always 'self' portraiture. It is always shown through the painter's eyes, through my own lens. From a Western perspective, breaking the constant of portraiture for this seemingly esoteric venture of an 'all mind-no mind' approach to paint about enlightenment seemed like a worthy challenge and opportunity to break away from what I'm typically conditioned to paint about. My engagement with this parable and mindful practice was a nice experience and look into my own art process. And in tune with the parable itself it seemed worthy. After all to know thyself has always been considered a worthy tenant for a lay painter.
ARTIST BIO
Georg Whelan is an Australian artist based in South East Asia. Working through expressive figurative painting, film photography, drawing and text he studies the commonplace and other. His work observes daily rituals and constructed narratives, referencing a spectrum of sources from historical figures to bathroom graffiti.