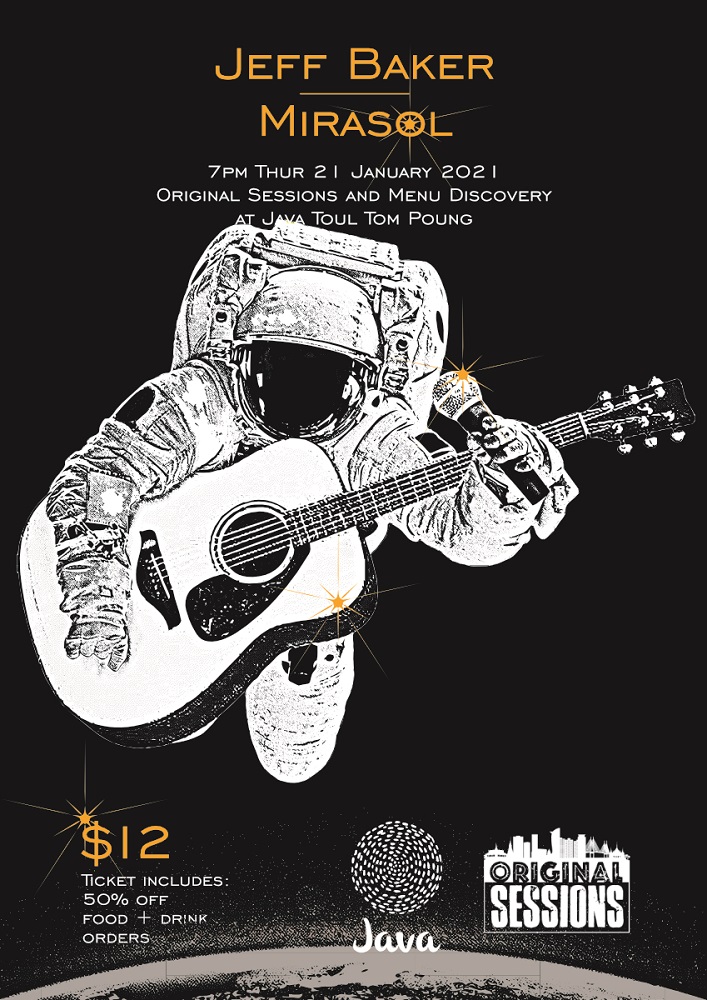 Date
21 Jan 2021
Expired!
Original Sessions featuring Jeff Baker | Mirasol
Jeff Baker | Mirasol
Original Sessions and Menu Discovery at Java TTP
7pm Thursday, 21 January 2021
Tickets $12, available at Java TTP
Includes 50% off food + drink orders
Original Sessions and Java are working together to bring you a series of concerts in Java's intimate black box theater in Toul Tom Poung. This is your chance to hear superb singer-songwriters in a theater environment, with high quality production. You can also enjoy a fine meal and discover Java's new menu with this special offer for music lovers: 50% off everything from 5pm on the day of the concert. Space will fill up fast, so message us to reserve a table!
At the concert on Thursday 17th December, tickets will be very strictly limited and social distancing measures will be in place. All concert-goers are required to wear a mask.
Please be sure to buy your tickets in advance at Java TTP to avoid missing two one-off personal performances by two very talented musicians.
***
About the performers, Original Sessions and Java's Theater:
Jeff Baker
Jeff Baker is a solo music artist from Chicago and a new face on the Phnom Penh music scene. Accompanying himself on acoustic guitar, Baker sings a highly accomplished repertoire of delicate-but-powerful songs anchored in a full and modern sound. Jeff is a young creative force with bona fide experience on the American live circuit.
Spotify: https://open.spotify.com/artist/3uESc
Facebook: http://facebook.com/jeff0baker0sounds
Soundcloud: http://soundcloud.com/jeffbakersounds
Twitter: http://twitter.com/jeffbakersounds
Instagram: http://instagram.com/jeffbakersounds
Mirasol
The incredible singing talent of Mirasol Aguila is well-known throughout South-East Asia. In addition to her musical skills, Mirasol is also a professional visual artist. During this unmissable performance for Original Sessions, Mirasol will share her artwork, songs and story in an up-close-and-personal live concert setting. Accompanied by Arone Silverman on acoustic guitar, Aguila will sing her stunning and soulful songs in both English and her native Tagalog.
https://www.facebook.com/mirasol.t.aguila
https://www.facebook.com/DailyArtWithMirasol
***
Original Sessions was founded in Phnom Penh in 2018 to provide a high quality concert platform for emerging Cambodian-based artists and visiting international acts. Each 'Original Session' provides a seated, ticketed, 'listening' environment where artists can connect with their audience in a way that is not possible within the normal bar or restaurant small gig format. Artists have found themselves moved and inspired by the setting which enables a great communication of their treasured original songs, while audience members have often been 'blown away' by hearing an artist more clearly and more impactfully than at previous gigs in Phnom Penh.
High quality video and audio content is produced at each Original Sessions show. Previous live highlights available to view on YouTube include Small World Small Band@Factory Phnom Penh, Metta Legita Orchestra@Sovannahphum Theatre and Miss Sarawan@Farm to Table. Original Sessions is proud, pleased and excited to return this December to the special environment of Java Creative Cafe Black Box Theater in Toul Tom Poung.
https://www.youtube.com/channel/UCgLAdRs3Cji9Gg4z4B7Djtw
https://www.facebook.com/originalsessionskh/
***
Java hosts a curated program of music, dance, theater and film. We actively support our community of performance artists providing a professional-quality environment to rehearse and perform. Unlike open-environment stages, the black box theater is an intimate space in which to enjoy and truly appreciate the craft of performance.
We regularly post our events on:
https://www.facebook.com/javacreativecafe
For inquiries please contact us!