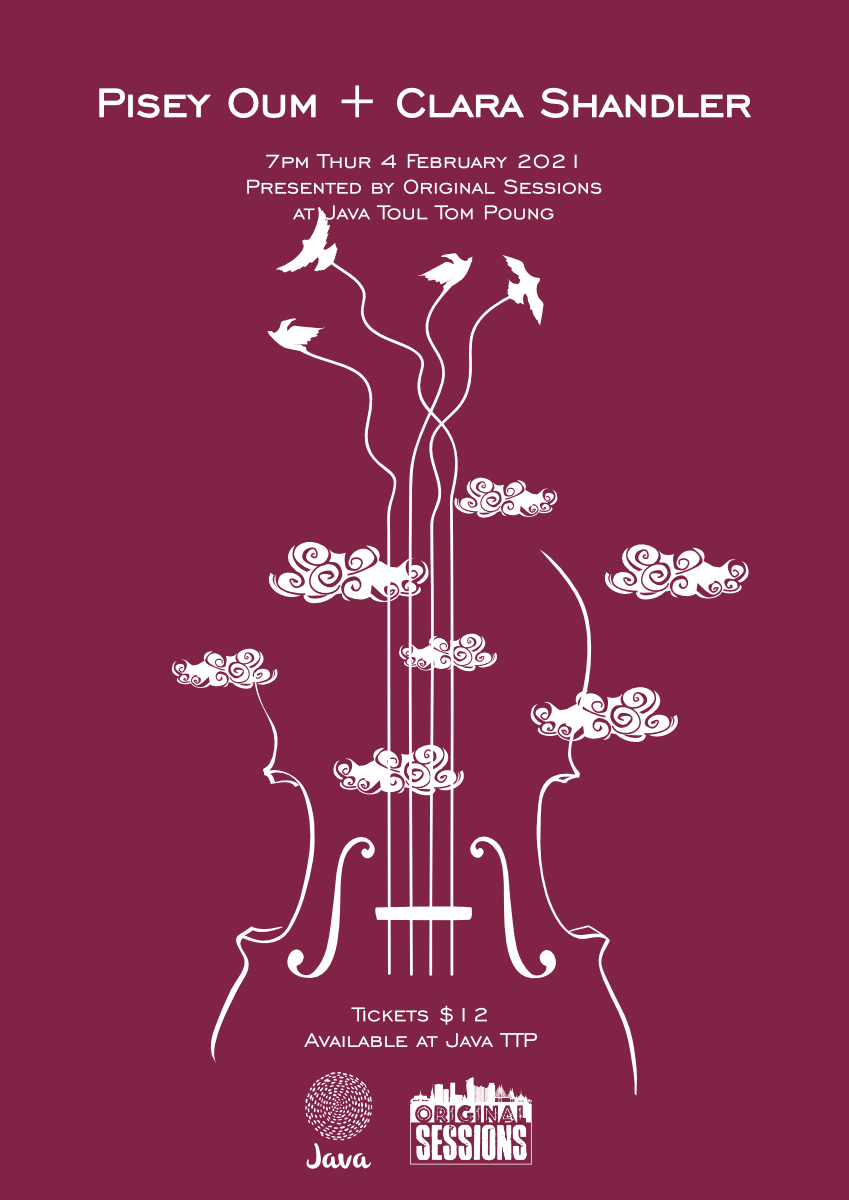 Date
04 Feb 2021
Expired!
Original Sessions: Pisey Oum + Clara Shandler
Continuing the series, Original Sessions brings you another great musical experience at Java TTP! This time you are invited to share a unique musical journey that encompasses great composers of Western music, the charming works of King Sihanouk of Cambodia, and Clara's poetic songs. This concert is brought to you in part by Music Arts School, visit their website or Facebook page to get in touch with Clara or Pisey.
About the performers, Original Sessions and Java's Theater:
Pisey Oum fell in love with violin as it gave her freedom to weave between Khmer and Western musical traditions. She performs with Khmer ensembles regularly and has been a pillar of the Music Arts School community for nearly a decade. Through her selfless love of teaching, Pisey has inspired confidence and self-expression in her students of all ages and abilities.
Clara Shandler, the Sidewalk Cellist, is a peripatetic cellist that loves to explore the globe and the music that percolates from every corner. Her original compositions draw inspiration from her travels, world literature, and nature, juxtaposing a moment of calm or nostalgia alongside some catchy tunes.
https://www.musicarts-school.org/
https://www.facebook.com/Music.Arts.School.Cambodia
***
Original Sessions was founded in Phnom Penh in 2018 to provide a high quality concert platform for emerging Cambodian-based artists and visiting international acts. Each 'Original Session' provides a seated, ticketed, 'listening' environment where artists can connect with their audience in a way that is not possible within the normal bar or restaurant small gig format. Artists have found themselves moved and inspired by the setting which enables a great communication of their treasured original songs, while audience members have often been 'blown away' by hearing an artist more clearly and more impactfully than at previous gigs in Phnom Penh.
High quality video and audio content is produced at each Original Sessions show. Previous live highlights available to view on YouTube include Small World Small Band@Factory Phnom Penh, Metta Legita Orchestra@Sovannahphum Theatre and Miss Sarawan@Farm to Table. Original Sessions is proud, pleased and excited to return this December to the special environment of Java Creative Cafe Black Box Theater in Toul Tom Poung.
https://www.youtube.com/channel/UCgLAdRs3Cji9Gg4z4B7Djtw
https://www.facebook.com/originalsessionskh/
***
Java hosts a curated program of music, dance, theater and film. We actively support our community of performance artists providing a professional-quality environment to rehearse and perform. Unlike open-environment stages, the black box theater is an intimate space in which to enjoy and truly appreciate the craft of performance.
We regularly post updates on:
https://www.facebook.com/javacreativecafe
For inquiries please contact us!