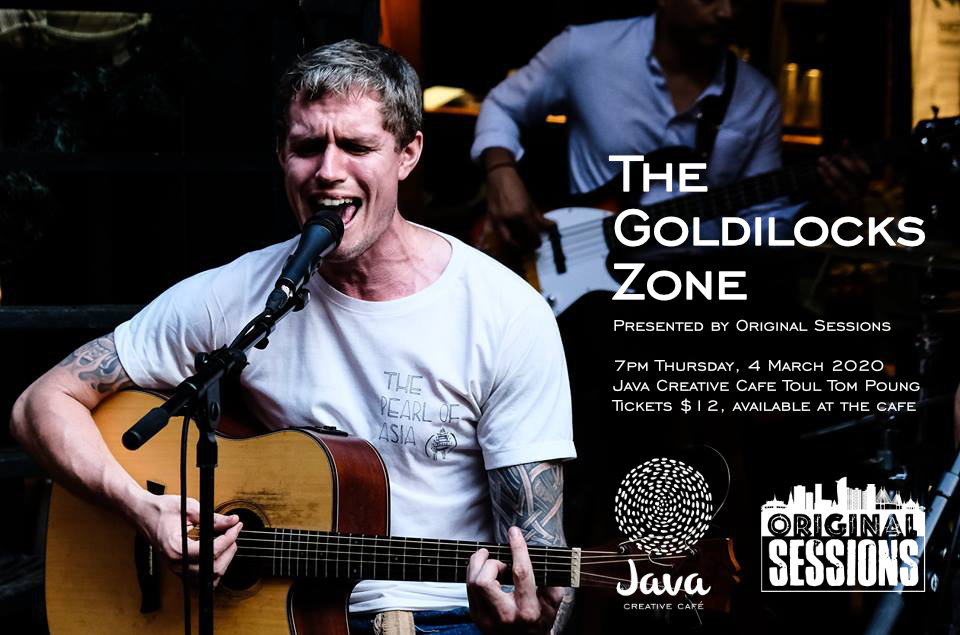 Date
04 Mar 2021
Expired!
The Goldilocks Zone presented by Original Sessions
Continuing the series, Original Sessions brings you another great musical experience at Java TTP!
This time you are invited on a journey into the unique sonic universe of The Goldilocks Zone – a band of Phnom Penh-based expats who have found their own style of compelling indie-rock. Featuring multiple vocalists, lush layers of guitar sounds and a wealth of well-crafted compositions, TGZ are highly suited to the intimate Original Sessions performance format.
About the performers, Original Sessions and Java's Theater:
The Goldilocks Zone are made up of members from all over this wonderful world and currently include Jack Dodd (Vocals/ Guitar), Ronan Sheehan (Vocals, Guitar), Hansley Bikhari (Bass, Synths) and Jesse Ricketson (Drums). A project initiated in a Kratie province swimming pool under the name 'Complicated Business' has been transformed from a three-piece acoustic covers band to a polished musical powerhouse.
For their Original Sessions performance, the band will delve into their past for a glimpse of the old and the new, present and future, with an organic, stripped-down performance to entice listeners into a warm embrace.
https://www.facebook.com/pg/TheGoldilocksZonePP
https://www.youtube.com/watch?v=N0egifNgihg
https://www.youtube.com/channel/UCfbnF-ArrBdp3PxyPvU_7qg
https://www.instagram.com/thegoldilockszoneband/
***
Original Sessions was founded in Phnom Penh in 2018 to provide a high quality concert platform for emerging Cambodian-based artists and visiting international acts. Each 'Original Session' provides a seated, ticketed, 'listening' environment where artists can connect with their audience in a way that is not possible within the normal bar or restaurant small gig format. Artists have found themselves moved and inspired by the setting which enables a great communication of their treasured original songs, while audience members have often been 'blown away' by hearing an artist more clearly and more impactfully than at previous gigs in Phnom Penh.
High quality video and audio content is produced at each Original Sessions show. Previous live highlights available to view on YouTube include Small World Small Band@Factory Phnom Penh, Metta Legita Orchestra@Sovannahphum Theatre and Miss Sarawan@Farm to Table. Original Sessions is proud, pleased and excited to return once again to the very special environment of Java Creative Cafe Black Box Theater in Toul Tom Poung.
https://www.youtube.com/channel/UCgLAdRs3Cji9Gg4z4B7Djtw
https://www.facebook.com/originalsessionskh/
***
Java hosts a curated program of music, dance, theater and film. We actively support our community of performance artists providing a professional-quality environment to rehearse and perform. Unlike open-environment stages, the black box theater is an intimate space in which to enjoy and truly appreciate the craft of performance.
We regularly post our events on:
https://www.facebook.com/javacreativecafe
For inquiries please contact us!