Ethereality, a Journey Through Sacred Space
October 20 – December 2, 2001
Java Creative Cafe Independence Monument
"All of my paintings have taken root in my very active imagination whilst ambling through the beautifully eroded temples of Southeast Asia, with these pieces significantly inspired by the temples of Angkor."
"Equipped with pencils, pens, sketchbook, and camera I spent as much time as I could sitting amongst the ruins. I visited each majestic wat at various times of day but found that the afternoons were the most peaceful and unbothered by hordes of other people, who like myself were hungry for just a taste of the awe inspiring magnitude of these ruins.
Whilst I sat in a solitary, quiet, shaded corner, the endless images hewn into the walls around me began to work their magic in the glistening, ever shifting late afternoon light. In these illuminated temples one feels transformed by such timeless beauty enhanced over centuries and my search for universal truth is realized, even if just for a moment."
Kathy Manthei
"To study the way of Buddha is to study oneself.
To study oneself is to forget oneself.
To forget oneself is to be enlightened by everything in the world.
To be enlightened by everything is to surrender one's own body & mind."
Excerpt from Introducing Buddha, by Jane Hope & Borin Van Loon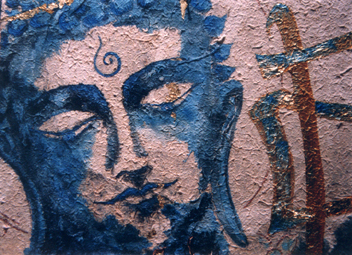 Kathy Manthei is an artist with an intense sensitivity to her surroundings and has chosen Asia to be the womb of her creativity and self-expression. Leaving her home in the West five years ago she has opened up to a new world to learn about herself and to develop her art. She is nurtured by traditional icons and materials uniquely Eastern. Influenced by temples all over Asia—mostly from Cambodia, Tibet, and India—Buddhist and Hindu symbols dominate this ethereal series. Her accumulated experiences are expressed by layers of saa paper, gold leaf, and paint. As one layer reveals another we see the artist's soul emerge. This consummation of East and West is a mark on the path of one woman's journey.
The Java community art spaces operate as non-profit programs with support from the cafe and private sponsors. It brings art to the Phnom Penh public in ways they may not normally experience with beautiful and thought-provoking exhibitions and live events.
Some of our archived files have low resolution or don't exist at all. Sometimes we were focused more on making exhibitions than archiving. Additionally, a fire many years ago destroyed all of our hard copies and a significant portion of our digital copies. If you are the artist or have access to images, press or anything else related to the exhibition, please contact us.